The Shuk: Machne Yehuda Market in Jerusalem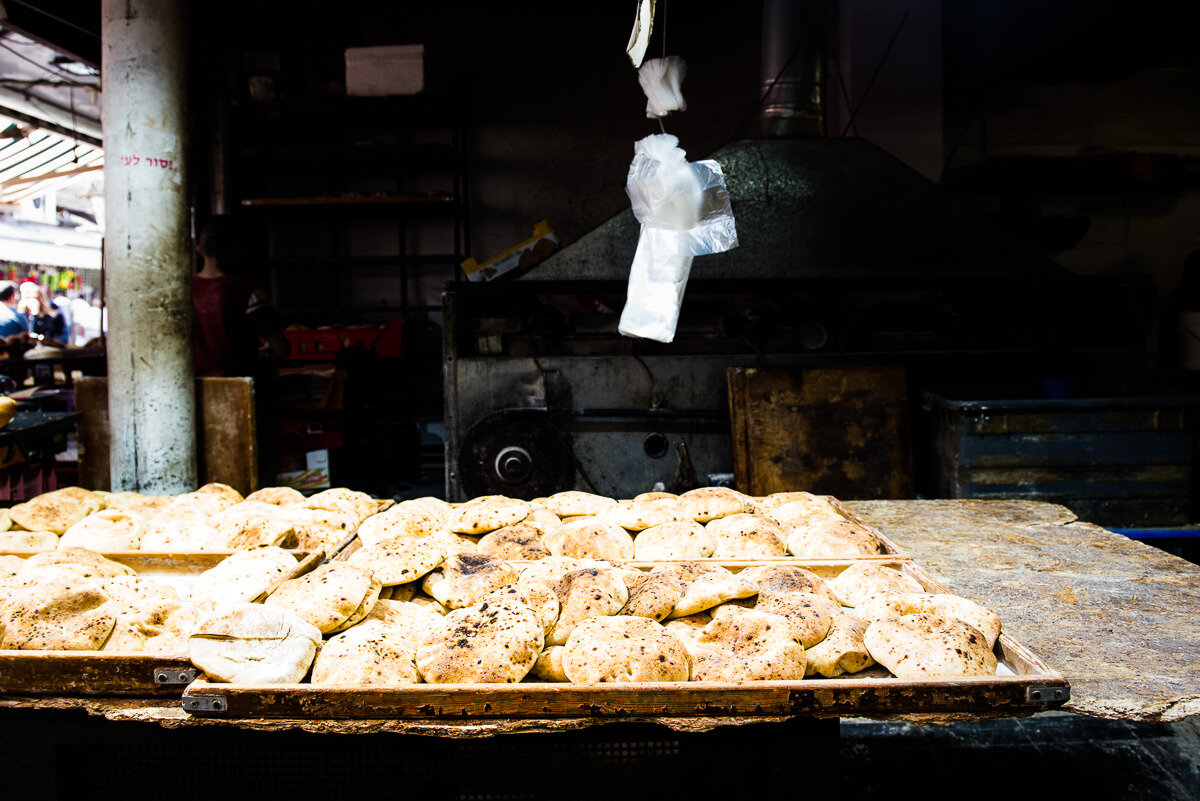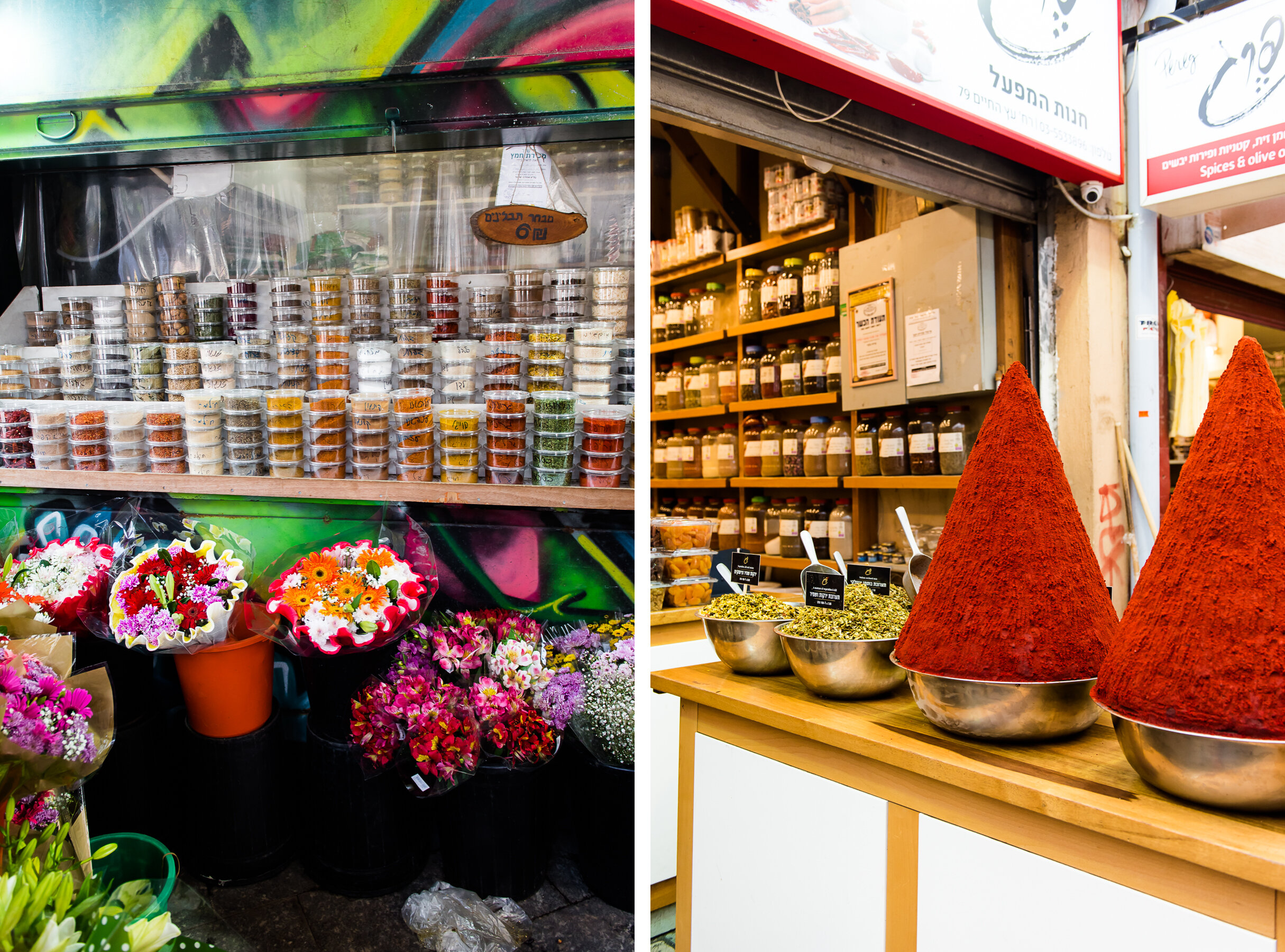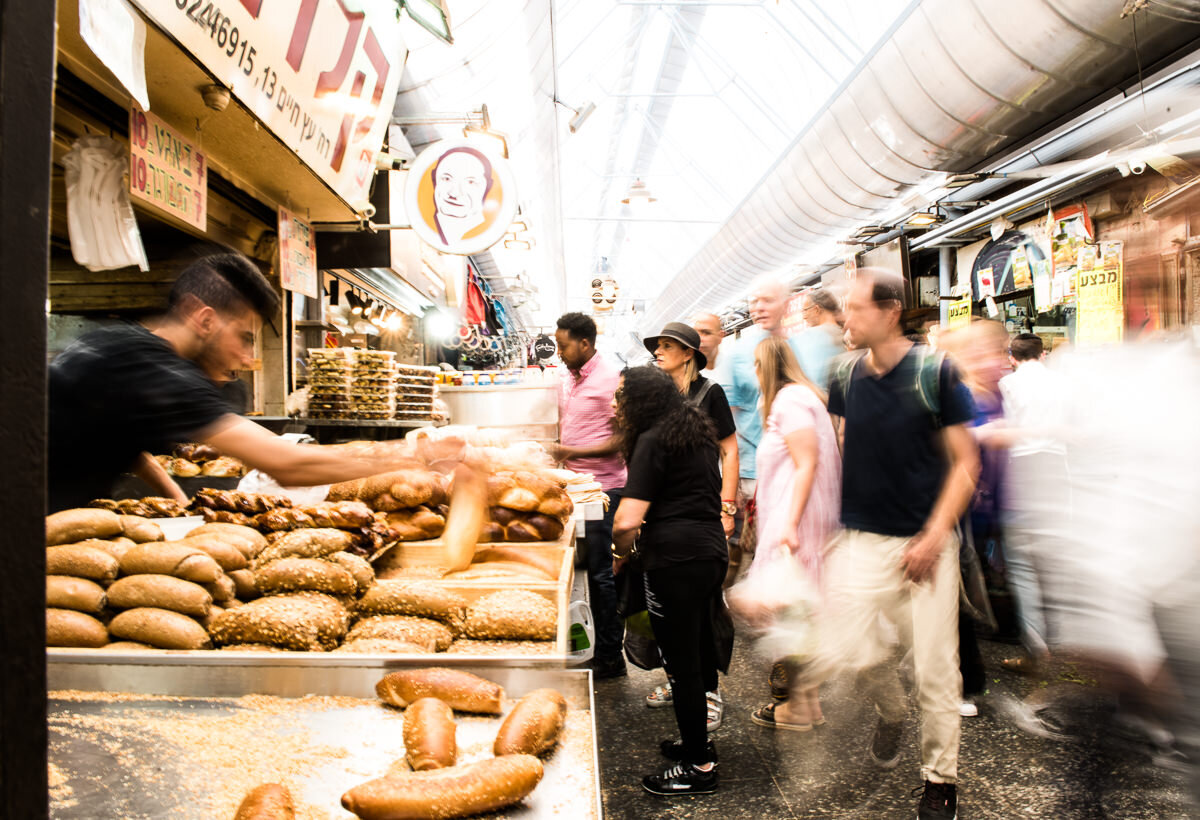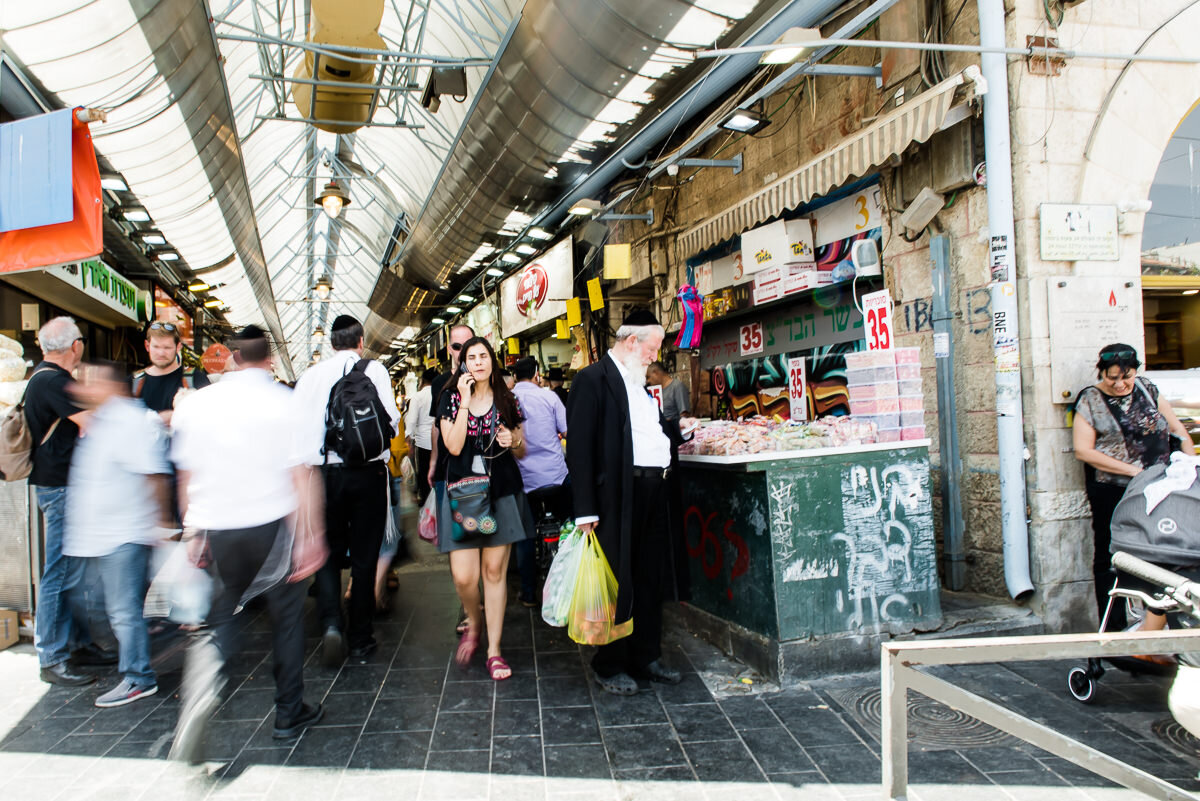 The Shuk
Machane Yehuda
Wednesdays are a good day to visit. The produce is primed and ready for shoppers getting ready for Shabbat. That's usually the day I would find myself getting off the 77 bus at Yaffo and boarding the light rail in direction to Machaneh Yehuda, two stops away. Even though I'd be rolling my trolley, I didn't make big shopping trips. The shuk was my getaway, where I would go to lift my spirit, recenter my mind, and gain inspiration. Strolling through the alleyways, observing the people, seeing the colorful bounty and tasting the delicacies was a treat every single time. It gave me the adrenaline to re-energize and returned the spring in my step.
I even had a route. I started off on Yaffo street and made my way down the open shuk, hearing the cajoling vendors promising fruits sweeter than their neighbors. Then, I'd make a stop at Aroma on Agripas for an ice café if it was a hot day, making my way back through the closed shuk, stopping and exploring whatever caught my eye. Some days I'd finish off with a second treat, the flakiest chocolate croissant at Haba before running off to catch the train back. This little route would have taken hours if I weren't restrained by kids' school schedules, instead I'd pack in as much as I can and make mental notes to come back for more. Because there is always more at the shuk. It's constantly evolving and changing, turning into a hub for foodies, tourists and locals. It's bittersweet, with the gentrification of this historical market, the vendors of the past are slowly closing shop, the charm of the shuk's roots are fading into modern commercialization, so I would hold on to every corner and crevice that told the story of its past. Every few months, new food chains are popping up, thrusting the fruits vendors out and replacing them with shiny new concept food joints.
My father-in-law grew up at the shuk, his childhood home is at the end of Agripas street, next to his father's makolet, a mere spring from the shuk. My husband would tell me stories of him working in the summer at his uncle's stand, the one he had for 50 years, selling candy and gazoz. I craved to experience that and when we moved to Jerusalem, I did. I got to know some vendors, I looked for the special items, I paced myself with the bustle and energy. I knew what season we were in based on the produce available. It was Pesach when fresh garlic came around, the fresh dates would spring up around Rosh Hashana and the cherries, peaches and plums meant summer was here. Strawberry season happened in December, because like most things in Israel, the unexpected happens and nothing makes sense. That's how you know you're in Hashem's home.
Ok, let's talk what to see at the shuk and where to go.
Beyond the mounds of fresh spices piled high in pyramids, the multicolored olives, the stuffed grape leaves, the boutique bakeries, the trays of baklava, the sticky sweet rugelach, the halva cakes as I call the notorious confection, there's the fishmongers who serve locals loyally, the date man who comes with his humble offerings, the Ethiopian legume vendor. The colorful rainbow of cultures in Israel all meet at the shuk, Yerushalmi kugel next to Kubbeh, it's all there. On Friday mornings things are especially hectic as you find people pacing the streets, fitting in as much shopping in honor of the Shabbat. It's the perfect morning to fully experience the electric bustle of the market. Make it a point.
Where to go
This is a very personal guide, this is where I went. This isn't comprehensive or conclusive, take it as casual suggestions.
I don't remember every vendor by name, but I'll direct you as best as I could.

Spices
Next door to Haba on Yaffo st is a spice store run by two sisters, one is named Oshrat and she makes the absolutely best Homemade Onion Soup mix, sans MSG and sugar.
I also go to Rambam which is right up the alley on the left if you walk from Yaffo.
There's a Persian (HaYazdi) man who has obscure and hard to find ingredients and spices, like zereshk.
Rosemary has an array of interesting dried fruits and spices, as well as those flavored tea cubes.
Pastries
Jerusalem Knafe is where you can get a delicious slice of the cheesy pastry called knafe, and also a warm cup of sachlav.
Rugelach, many vendors have delicious ones, I like the ones at Duvdevan in the open shuk, make sure yours are topped with sesame seeds, it makes all the difference.
Borekas, there's a borekas place that makes you a serious meal out the cheesy pastry with eggs and tchina, not to be missed.
Boutique Central has the loveliest macarons, worth every shekel.

Bread
When you walk into the open shuk from Yaffo, on the right you'll find a bread maker who makes pitas on the stop all day, he has the best Persian and Yemenite bread.

Kalderone has the best pitas. Period.
Teller Bakery makes a crusty olive bread of my dreams.

Produce
Yaakov UBanav is a one stop shop with high quality produce, plus he takes credit card, an amazing service when you're strapped for cash in the predominantly cash only market.
Fish
David Dagim is a longtime family friend and rightfully earned his reputation for the freshest, cleanest fish in the shuk.
Other
Culinary Market on Yaffo street is a baker's dream. It has everything from callebaut chocolates to fleur de sel and beyond.
Balagan (a.k.a. East West/Mizrach Maarav) is an Asian grocery store where you can find a variety of dried mushrooms, miso, all the noodles, and even quail eggs. It's on Agripas 44, a short walk from the shuk.
I didn't include restaurants because those tend to come and go often. Plus I can't imagine a bad meal at the shuk.
I hope you get to experience a little bit of the magic that is Machane Yehuda. I'm hosting a giveaway over on my IG page if you'd like to taste most of the things I'm talking about.